Motorisation allows you to set up your window furnishings to automatically open and close by either a touch of a button or by timers and schedules. Imagine if you could set your blinds to be drawn when you go to bed at night for complete privacy and a night of sound sleep. Then, wake up to the sun rays illuminating your space, without having to lift a finger or jump out of bed – this is all possible with window furnishing motorisation teamed with home automation or a smart home system.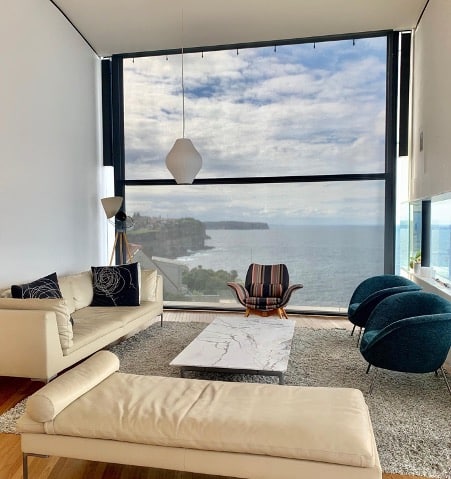 Image credit: Absol Awning Blind & Shutter Solutions
Motorisation is a fast-growing trend and a favoured choice for modern designs. Here are a few popular benefits of motorised window furnishings:
Link with an existing, or future, home automation/smart home system
Whether you have an existing system or are looking to have one installed – you will have ease linking your smart home system e.g. Alexa or Google Home with your window furnishing motorisation.
By connecting your window furnishings to your smart home system, you'll not only have control over your windows but also other aspects of your home, all from the same device – from turning your lights on and off to setting the temperature of your air conditioning system. When your window furnishings are linked with a smart home or automation system, you'll have peace of mind and added security through the imitation of activity in your home when you're away.
Suitable for a range of blinds, curtains and awning options
You'll be pleasantly surprised to find out that most blinds, curtains and awning options can be motorised. So, no matter your needs, style, or in some cases, existing furnishings, you'll be able to tick all the boxes.
Other benefits include:
Ease of use
Peace of mind with no cord hazards where children, the elderly or pets could be involved
Less wear and tear with little, to no, need to handle your furnishings
Quiet and discreet operating systems
A simple and minimalistic design. No need for cords or curtain wands
Save energy and money by easily adjusting your window furnishings to heat or cool your home or business. Meaning less reliance on air conditioning units
Image credit: Straitline Blinds
Enjoy the flexibility, ease of use and convenience of motorised window furnishings all from a touch screen, mobile phone app, handheld remote or even voice control.
It is a perfect solution for both residential and commercial environments or indoor and outdoor settings. This trend of modern living is continuing to grow and will help increase the value of your home.
Our Fashionline members offer a variety of motorised systems from reputable and quality suppliers – you're sure to find a solution to suit your needs.
Get in touch with one of our knowledgeable experts to learn about the latest range of motorisation products for curtains, blinds and exterior awnings.
Your Fashionline team.