Generally, when purchasing something new, you ask yourself "How long will this last?" so when updating or purchasing window furnishings you'll need to ask yourself the same question.
There are many factors that come into play when deciding how durable your window furnishings need to be; do you have children and/or pets at home? Are you furnishing a rental or holiday rental? Or are you furnishing a house that is prone to fluctuating climates? Once these factors (as well as many others) have been addressed, picking a furnishing with suitable longevity will become an easy decision.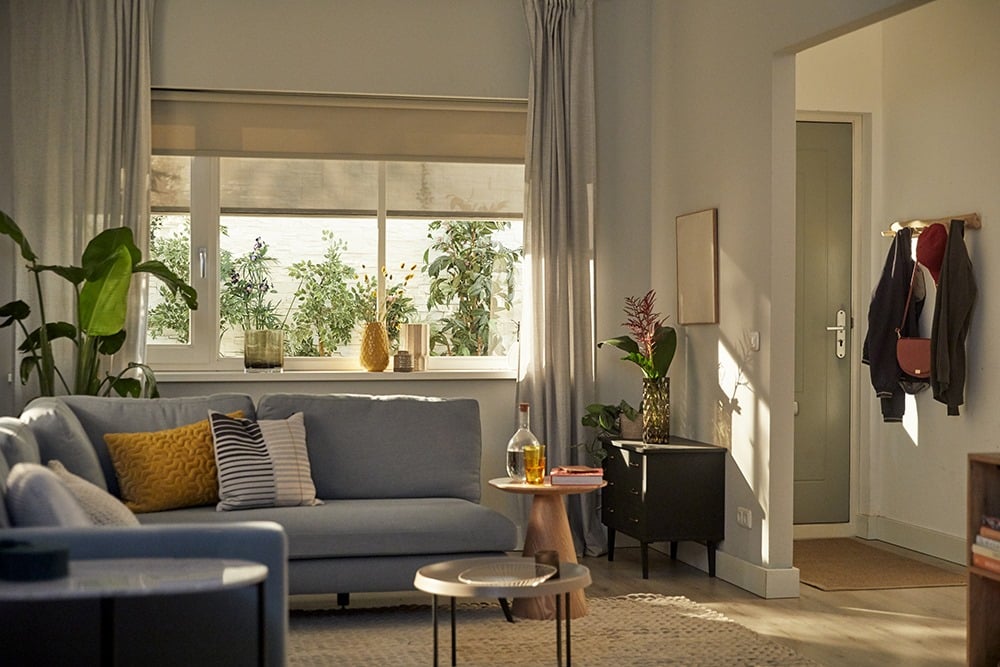 (Image credit: Somfy Australia)
Roman blinds
The right blind and its material will have an effect on how long it'll last. For example; choosing a light fabric in a high traffic environment is not going to last as long as a more durable darker fabric.
If well looked after, blinds can typically last for 5 – 10 years before they need replacing. If you are looking to keep your home timely and modern, then this could be a suitable option. This style exudes a luxurious look and paired with soft fabrics roman blinds create a relaxing and homely feel.
Roller blinds
If you are installing roller blinds where users manually have to adjust the blind height multiple times a day can dramatically reduce the life span… by half!
Motorisation could be a good solution as it can help reduce wear and tear of everyday use. Users can adjust the height of the blind by a touch of a button which in the long run can extend the life of your blind.
Roller blinds are a great economical choice, with a large variety of fabrics available it is easy to see why these types of blinds are very popular.
Curtains

Curtains are a tough one. They are known for being one of the longest-lasting window treatments… however, depending on the window or door they are furnishing… they can be an expensive option.
Curtains can be purchased in an array of colours, patterns and styles. When deciding your curtains, to ensure they last, it is important to choose a durable fabric and keep the colour tones as neutral as possible to ensure they outlive future trends.
(Image credit: Bush's Blind)
Plantation Shutters
Plantation Shutters are an extremely popular window accessory and are favoured by most consumers as they are not only modern and easy to clean but are very durable which gives them a long 'shelf life'.
These types of shutters are available in a range of materials such as; Wood, Vinyl, PVC or Aluminium, which allows you to tailor the material to suit your environment, for example: Aluminium shutters are perfect for outdoors.
Whether you have decided on your window furnishing or would like to speak to an experienced team member for an affordable, effective solution then get in touch with one of our reputable Fashionline members.
Your Fashionline Team.